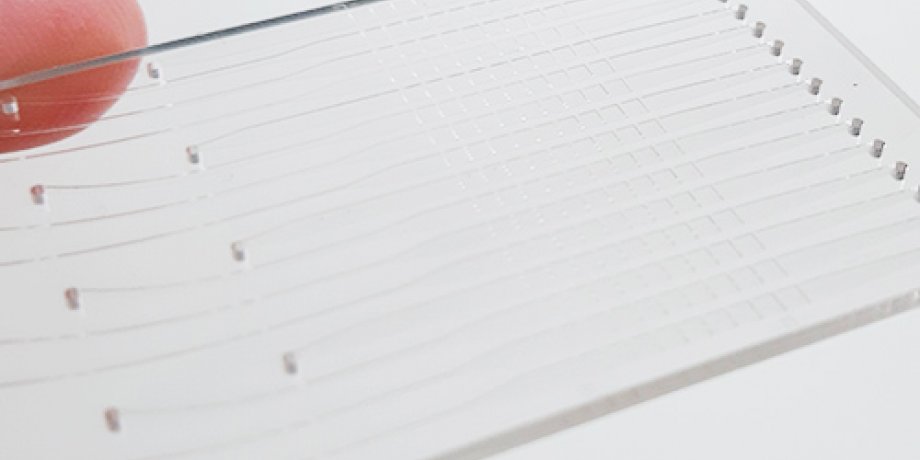 Organism-on-chip technology
in vivo testing at the in vitro scale
INTRODUCING THE FIRST ORGANISM-ON-CHIP TECHNOLOGY
ENABLING 3rs FULL-ORGANISM TESTING
Automated end-to-end culture, treatment, imaging and analysis
SydLab™ One combines the unique Organism-on-Chip technology with robotics and high-content imaging to make all the C. elegans experimentation processes automated.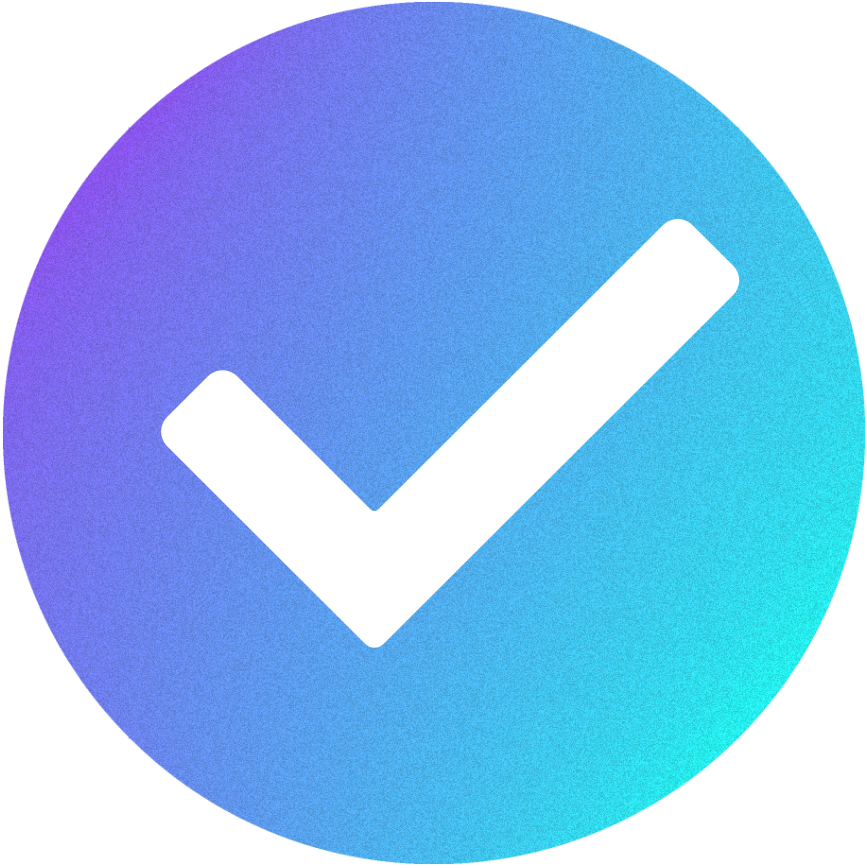 Patented MWM technology
Thanks to the development of our patented Microfluidic Worm Matrices (MWM) technology, we offer the possibility of confining worms within large arrays of microfluidic chambers in a simple, fast and reproducible way, by means of passive hydrodynamic worm-valves.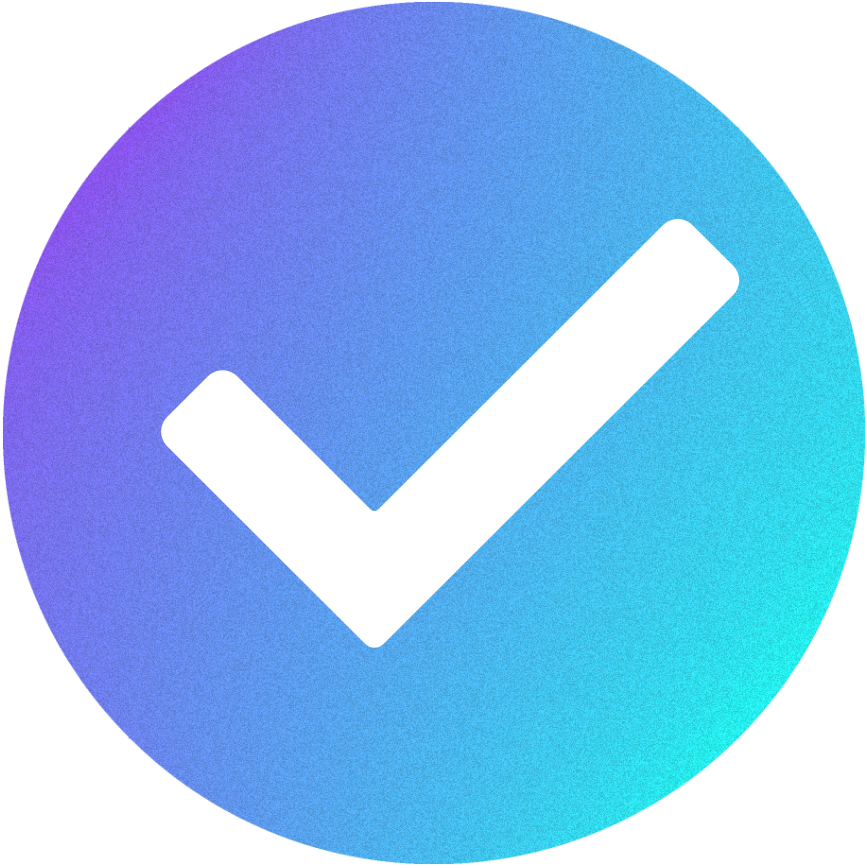 First Organism-on-chip
By the usage of our MWM method, the Nagi team was eble to develop a myth that today is a reality: the first Organism-on-Chip technology for the controlled growth of C. elegans and their automated time-resolved treatment and analysis, throughout their entire lifespan.
Inside the nagi chips
discover the secrets of the first organism-on-chip
No more messy plates. No more manual handling. Unlock the full potential of small organisms with the microfluidic Nagi™ Chips. More parallel conditions, more readouts, more possibilities. All compatible with the SydLab™ One products.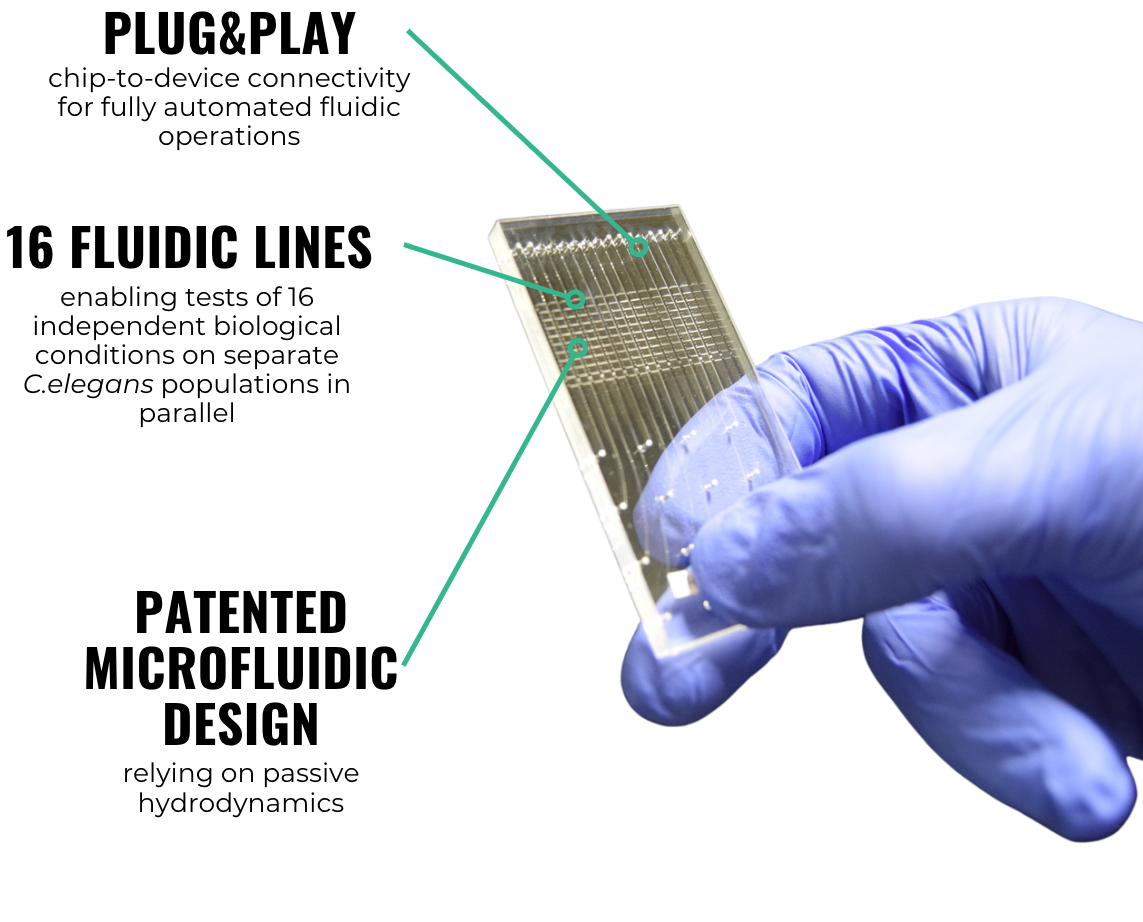 Sydlab™ One: One device. infinite possibilities.
Get whole-organism readouts like never before
SydLab™ One can run tests on up to four Nagi™ Chips in parallel, where 1000+ individual micro-organisms are automatically confined, cultured, treated, and studied via time-lapse microscopy images and videos at unprecedented throughput and over long-term time-resolved experiments.
Combining cutting-edge high-content screening technology and robotics, SydLab™ One is the first all-in-one benchtop laboratory device capable of performing multiple bioassays and wide screenings of your compounds of interest on micro-organisms.
Brightfield imaging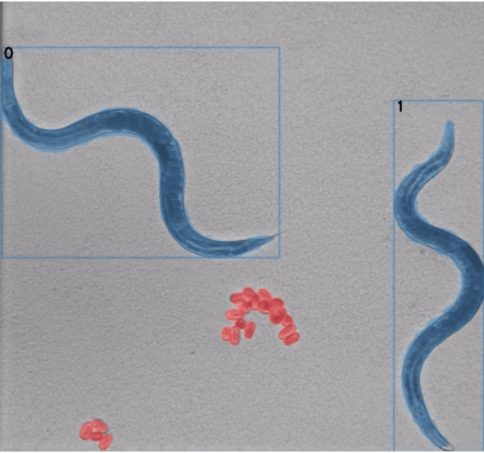 Fluorescence imaging
MotilitY videos
Explore the data
whole-organism phenotypic readouts instantly
SydLab™ One solution counts with the AI-powered imaging extraction and real-time SydLab™ Analyzer: a software suite trained to support scientists at every step of the process. From experiment design to readouts extraction, all in just a user optimized software.
Welcome to the era of automated multi-phenotypic data extraction, analysis and interpretation on small organisms.
SGV Annual Meeting 2023

28 Nov 23

SGV Annual Meeting 2023

28 Nov 23

2023 Swiss Laboratory Animal Science Association (SGV) Annual Meeting will be taking place November 28th-29th in Zurich, and couldn't miss it! Get to know the pioneer labtech able to offer 3Rs in vivo testing at the in vitro scale. Curious, aren't you? We are talking about SydLab™ One and it's powered by Nagi's patented Organism-on-Chip technology. If this raised your curiosity, have a chat with our experts there and ask for a demo! #inwormwetrust

SGV Meetings – information

Bio-Europe 2023

6 Nov 23

Bio-Europe 2023

6 Nov 23

Connect with us at Bio-Europe 2023 at the Swiss Pavilion! Keen to know more about the applications of the first Organism-on-Chip technology? Schedule a 1:1 with our representatives via PartneringONE. #inwormwetrust

Bio-Europe Munich 2023

Festival of Biologics 2023

10 Oct 23

Festival of Biologics 2023

10 Oct 23

We are more than ready to participate for the first at the Festival of Biologics in Basel! Find us at the Start-up Zone and discover how our product SydLab™ One do screenings of your compounds in just a week and all 3Rs-friendly. #inwormwetrust

Festival of Biologics – Basel 2023