We called our SydLab System a high-content screening technology many times, but what does it mean exactly? Today we will walk through the concepts of high-content screening (HCT), high-throughput screening (HTS) and their role in drug development.
HSC? HTS? Let's clarify
High-content screening is a method used in biological research and drug development where substances altering the phenotype of cells are identified throughout multiple in parallel readouts of different parameters.
But then, what is high-throughput screening? In fact, HCT and HTS are closely related. High-throughput screening is a method primarily used for drug development where robotics, data processing software, detectors and liquid-handling technology allows to run at a high speed multiple chemical, genetic and pharmacological tests of thousands of compounds. While high-content screening also involves the use of automated microscopy and image analysis software, both are crucial technologies involved in drug design processes and early toxicology testing.
High-content screening: The story of a process
Typically, a high-content screening process follows the following path: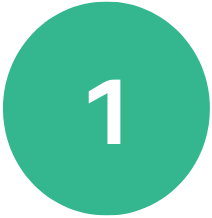 Incubation of the cells with the desired substance.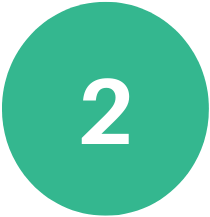 Desired exposure time.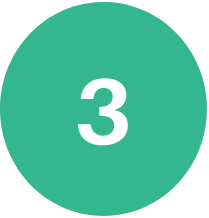 Analysis of the cells' structures and molecular components.
As a HTC platform, Nagi's SydLab System follows the same logic, but much easier, faster and with minimum human intervention.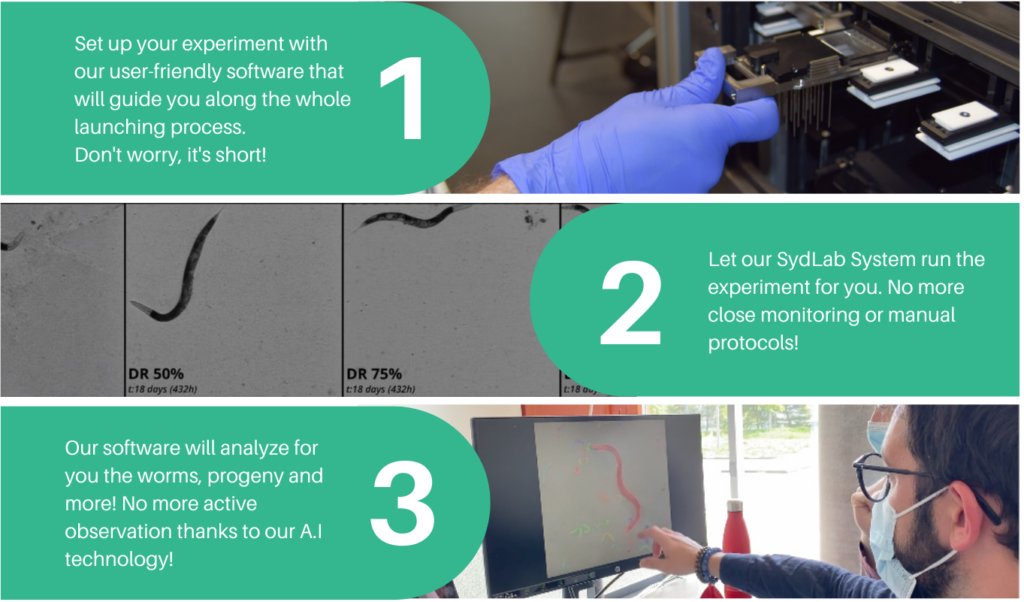 Analysis? Let the SydLab Analyzer do its magic
The two most common high-content screening analysis methods are the use of fluorescent tags and image analysis. In particular, the SydLab Analyzer software extracts multiple phenotypic information from the images and videos taken by the SydLab Device using state-of-the-art artificial intelligence. Data comparison, clustering and statistical analysis tools are then provided to support the user in the data interpretation process. An example could be a rapid identification and ranking of toxic or effective compounds in the experiment, for instance.
Let's have a quick look at the SydLab Analyzer software
Wondering about the fluorescence technique? Our platform integrates both BF and fluorescent microscopy with the possibility of GFP signal tracking.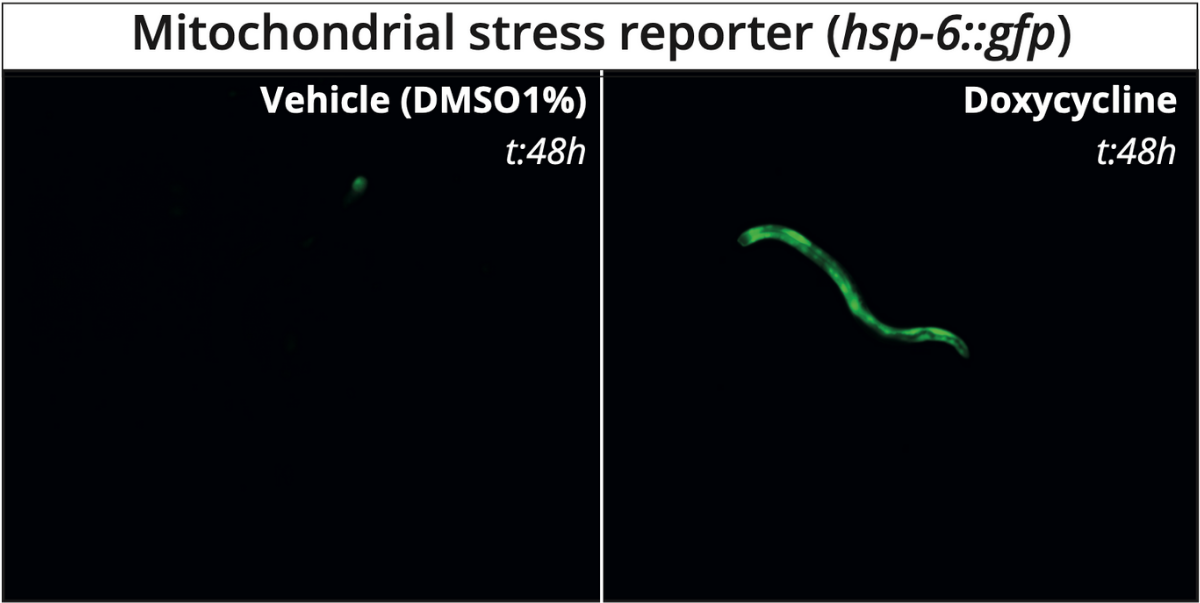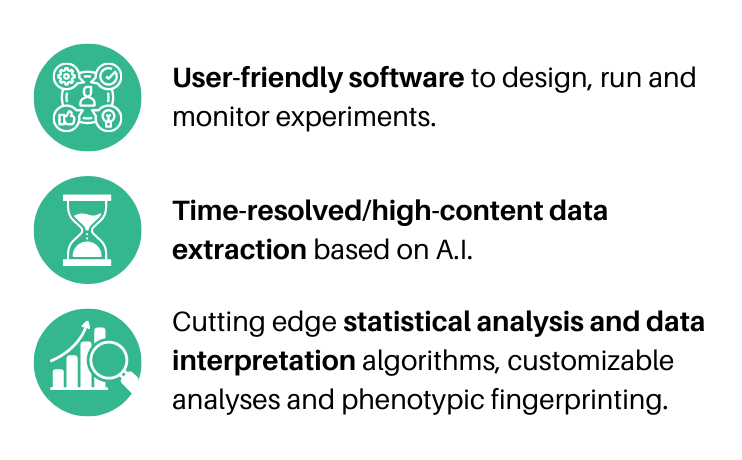 Fluorescence detection using proprietary ML-based algorithm. Activation of the mitochondrial stress respsonse in hsp-6::gfp C. elegans treated with the antibiotic doxycycline starting from the L1 larval stage (right) vs untreated worms (left), as observed via fluorescence imaging by the SydLab platform.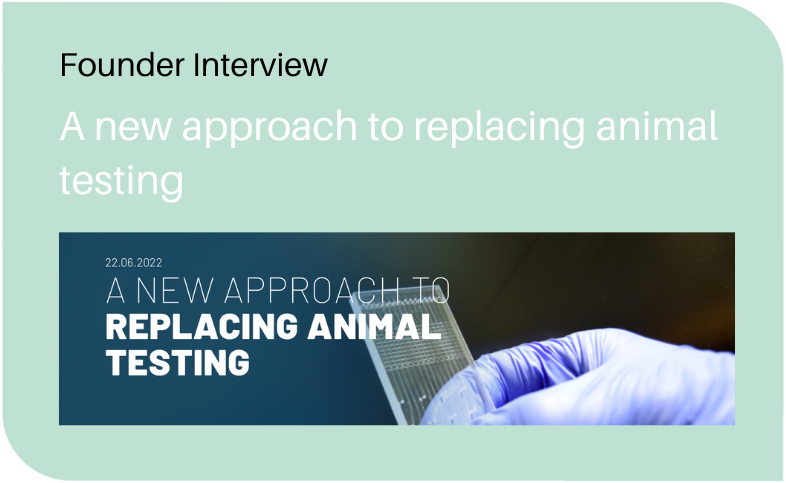 High-Content Screening in numbers
High Content Screening technologies are used in the performance of genetic, chemical and pharma tests for drug development processes, from drug design to drug trials.
The market reached a value of $19.55 billion in 2019, and it is expected to grow at a CAGR of 7.9% reaching a value of $35.9 billion by 2027 (Grand View Research, 2020). The market growth is estimated to be driven by the increasing number of conditions in need of an appropriate treatment requiring a high accuracy rate when tested. Consequently, regulatory entities are accelerating the adoption of higher quality control standards for a better information and data accuracy. Nonetheless, the main market retrain is the lack of accurate technology for such applications and the shortage of qualified experts to handle this kind of new advanced technologies.
HCS market value by segment (by technology)

While the cell-based assays segment is expected to dominate the market, the Lab-on-a-Chip sector is expected to exert the highest CAGR (9.30%). Being Nagi's proposition part of the Lab-on-a-Chip market with the potential to absorb market share of the cell-based assays sector (since it includes 3D cell culture), our technology is expected to solve the main drawback of the industry: lack of standardization and need of specialized professionals.
Be an early-bird – Bring the SydLab revolution to your lab
All in all, Nagi's system offers a 360° solution for your C. elegans studies, standardizing and automating the whole process, from the experiment initiation until the reporting process. Having completed multiple successful service projects and after validating our technology with Bayer CropScience, the integration of our SydLab System in your lab is now a close reality.
Contact us for more information about the pre-order period here: