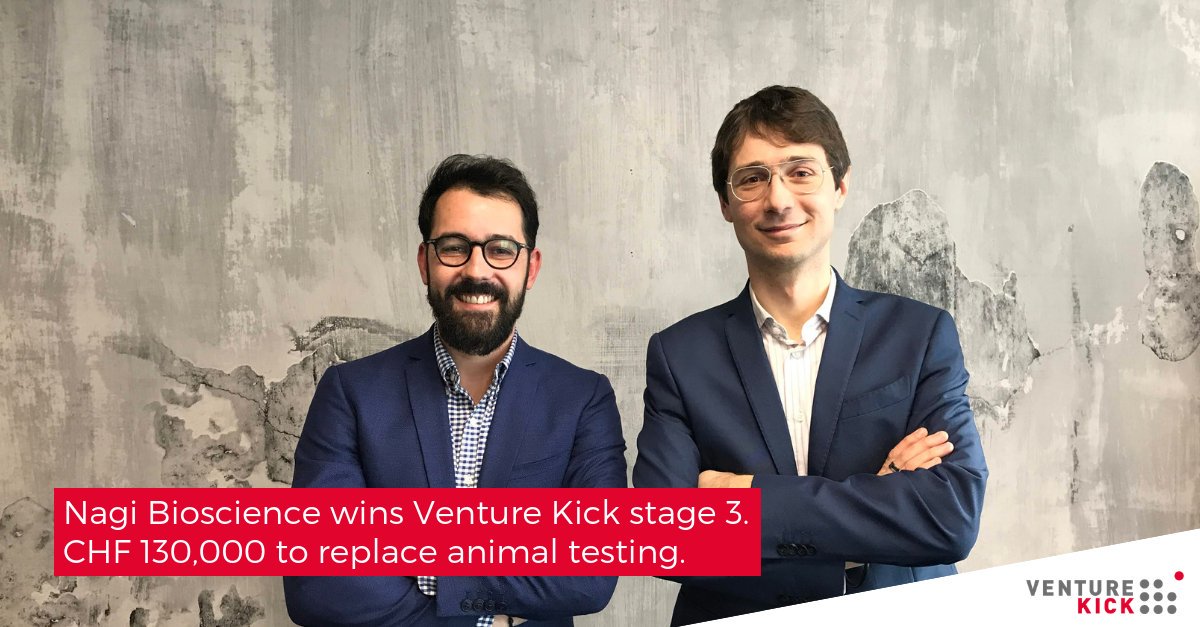 press release
Nagi Bioscience receives the Innosuisse Certificate accrediting for sustainable growth
June 6th 2023
Saint-Sulpice, Switzerland
Nagi Bioscience, a biotechnology startup developing cutting-edge laboratory equipment to unlock alternatives to animal testing, has obtained the prestigious Innosuisse Certificate. The label is awarded by the Swiss Innovation Agency to innovative startups that demonstrate exceptional potential for growth and success. The Innosuisse Certificate is a seal of quality that recognizes the capabilities and potential of the company, while providing access to a range of coaching and support services. Startups that obtain the certificate have demonstrated a solid business plan, a clear strategy, and the ability to execute on their goals, which makes them officially certified for sustainable growth.
"We are thrilled to receive the Innosuisse Certificate, which validates our solid business and hard work," said Dr. Matteo Cornaglia, CEO and co-founder of Nagi Bioscience. "This certification accredits that Nagi is fully ready to start scaling-up as commercial organization and to accomplish our mission of accelerating the transition to a new era of biological testing with our state-of-the-art technology."
Nagi Bioscience announced last March the launch of their first product: SydLab™ One. SydLab™ One is a laboratory benchtop device that combines advanced microfluidics, machine learning, cutting-edge robotics and biology to enable high-content screening of drugs and chemicals on micro-organisms in a fully automated and standardized way. Relying on Nagi's patented Organism-on-Chip technology, SydLab™ One is the first end-to-end automated solution for small-organisms testing, serving the needs of a vast variety of industries, including pharmacology, agrochemical, cosmetics, and biotechnology among others. On the premise of "unlocking the potential of small organisms to any lab", SydLab™ One has proven to reduce lead times in drug and chemical discovery pipelines, while providing uniquely informative novel data-points and unprecedented reproducibility and scalability of results.
ABOUT NAGI BIOSCIENCE
Founded in 2019, Nagi Bioscience started as a spin-off of the Ecole Polytechnique Fédérale de Lausanne (EPFL) pioneering the alternative biological testing landscape for the past 10 years. With its innovative Organism-on-Chip technology, Nagi aims to revolutionize the way new substances are tested today through cutting-edge laboratory equipment that allows to unlock the full potential of small organisms. Under the motto of in vivo testing at the in vitro scale, Nagi Bioscience works for the transformation of biological testing standards by creating faster, scalable, more efficient, and ethical methods.
ABOUT INNOSUISSE CERTIFICATE
After the completion of the Core Coaching Program for startups, the Swiss Innovation Agency (Innosuisse) have the power to grant the Innosuisse Certificate to those startups with remarkable progress achieved during the program, confirming the readiness of the business for sustainable growth.
CONTACT INFORMATION
Matteo Cornaglia, PhD
CEO and co-founder of Nagi Bioscience
matteo.cornaglia@nagibio.ch