The animal testing market loses the battle of growth against non-animal technologies.
Alternative Testing Market Overview: A recent market report estimates the growth of the animal testing sector at a CAGR 4,27% until 2025 and CARG 2,46% until 2030. On the contrary, the technologies tapping the toxicology testing market with alternatives for animal testing have been estimated to grow at a CARG 10,40% until 2025, with a valuation of $2 billion (The Business Research Company, 2022). Although the animal testing sector registered almost $12 billion last year, a clear growth slow-down is expected due to new testing requirements and standards that governments around the world translated into regulations pro-3Rs principles (reduce, replace, refine) for animal welfare. The most recent example has been the US Environmental Protection Agency (EPA) fixing the elimination of chemical testing in mammals by 2035 as their new objective. All in all, this new regulatory paradigm propelled the early adoption of non-animal testing technologies directly by end-users (pharma, agrochemical, cosmetic indutry…), as well as drived further innovation for the refinement of such solutions.
Major drivers for non-animal testing alternatives
Technological advances
Ethical concerns on animal experimentations
Increase in regulations for animal testing in the cosmetics industry
Increase of government initiatives
Rise in R&D projects
Raising investments and research grants
Increasing collaborations and partnerships to reduce animal testing
High costs of animal studies
First cosmetics, what about chemicals? – A Europe overview
The European Union states that animal models can only be used for experimentation if the expected benefits are greater than the risks, which is primarily measured in terms of animal pain, and when the objectives cannot be achieved using alternative methods. In the particular case of cosmetic products, however, a full ban came into force in the EU in 2013. But what about chemicals? Rigorous and extensive safety assessments must be done to all chemicals, and still a lot of them are done using animals for testing purposes.
A year ago, the European Parliament voted in favor of a plan to overrule the use of animals in research and also for toxicity testing. While this plan entitled more funding for research alternatives to animal testing and drived more traction to the market of NAMs (New Approach Methodologies), there is still a long way for a complete replacement scenario. While alternative testing techniques are less time and resource consuming, ethical, and protect animal welfare, in the case of more complex substance scanning, beyond eye irritation or skin corrosion for instance, there is still a challenge for those technologies.
Is it possible to bridge the gap between cells and mammals?
One of the main concerns for chemical screening and research using NAMs is the lack of whole-organism data, such as the use of cells in vitro like one of the first alternative testing methods: the Organ-on-Chip. Nonetheless, are animals like mice accurate to predict the outcomes of chemicals in humans?
Thankfully, we count with Nature's gift: Caenorhabditis elegans, our solution between cell-based assays and tests on mammals.
The microscopic roundworm C. elegans is a valuable biological model in toxicology able to predict toxicity outcomes in mammals, with whom we share 60-80% of homolog genes.
Their anatomical characteristics and their short lifecycle makes them a perfect model organism to study, though most of the current labs using C. elegans still rely on a lot of manual handling, which increases resources, time and the need of specialists.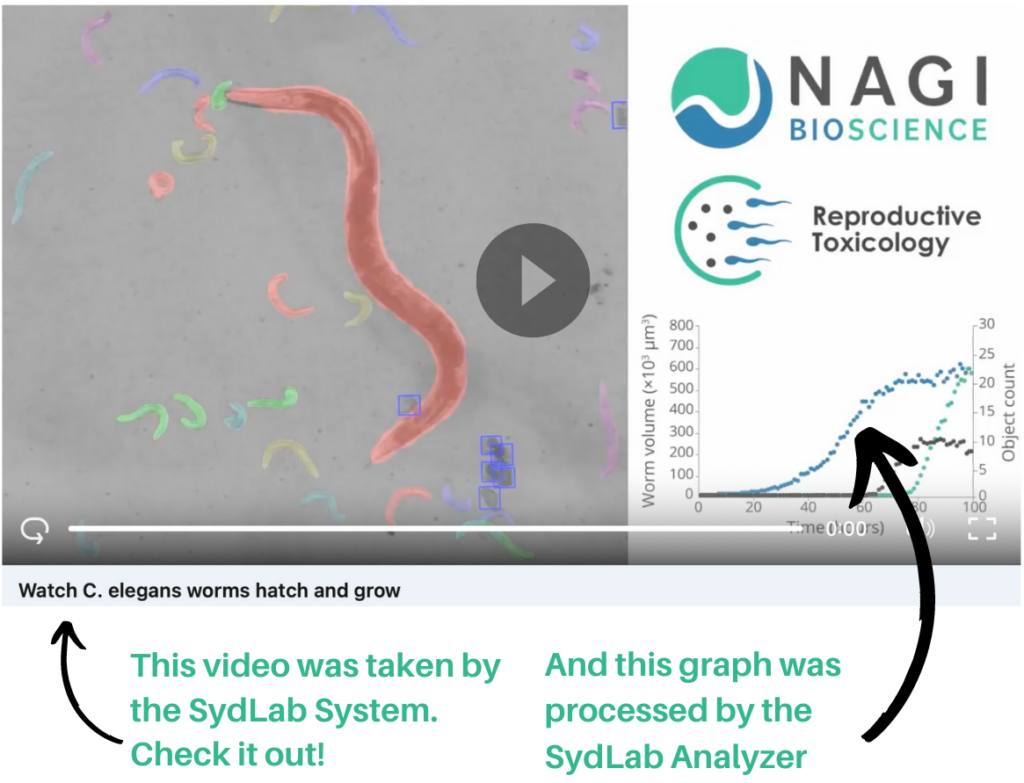 Innovation means automation
So, why not automate C. elegans assays? That was the question behind the idea that today has become a full high-content screening system: The SydLab System, an all-in-one benchtop robotic device provided with innovative imaging, fluidics and data analysis capabilities, specifically designed for large-scale automated testing on C. elegans and other microorganisms.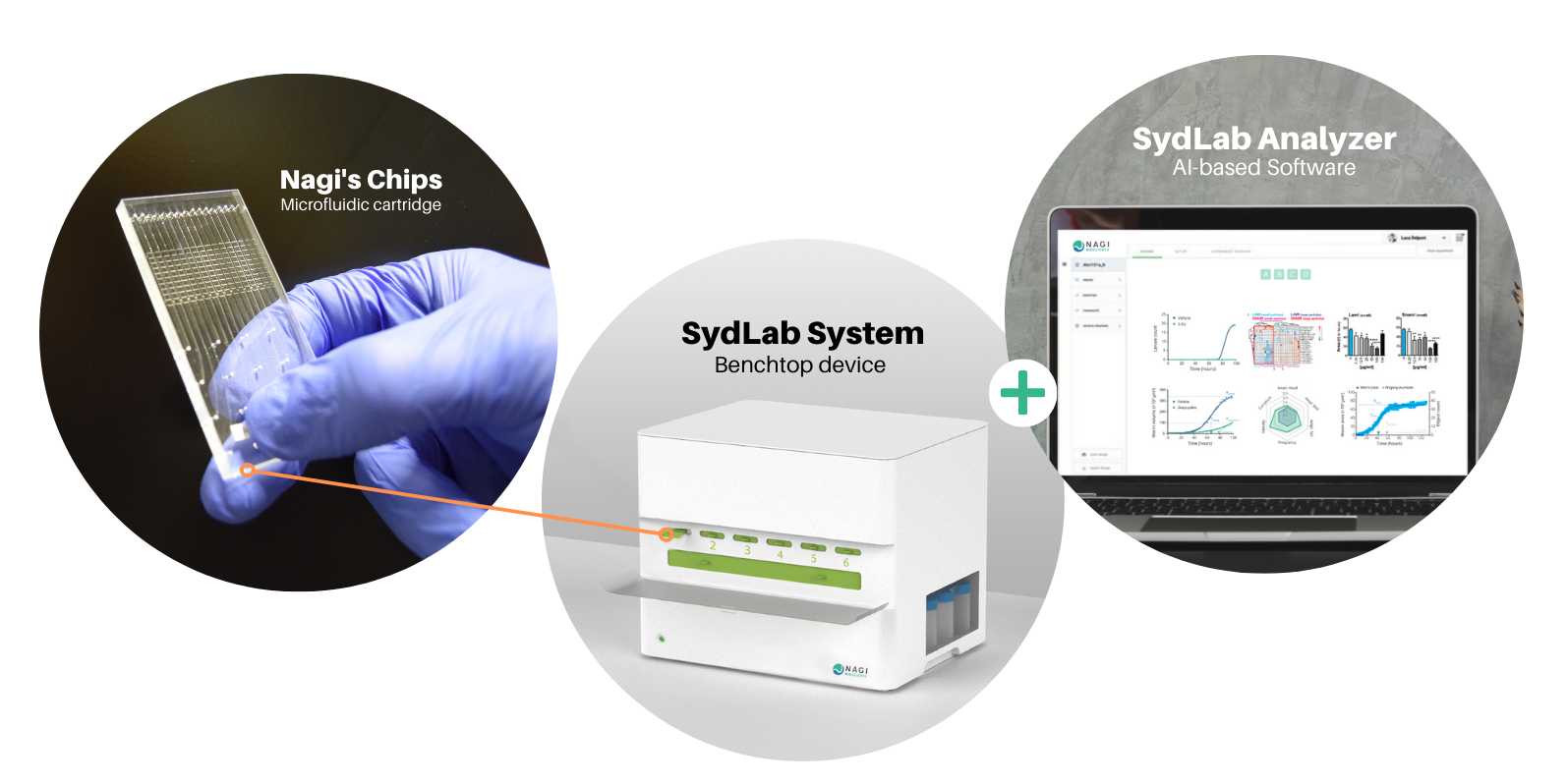 All in all, Nagi's system offers a 360° solution for your C. elegans studies, standardizing and automating the whole process, from the experiment initiation until the reporting process. Having completed multiple successful service projects and after validating our technology with Bayer CropScience, the integration of our SydLab System in your lab is now a close reality.