As part of the study, a screening was performed in C. elegans using Nagi Bioscience's fully automated high-content screening platform in order to determine the efficacy and necessary dosage of the test compounds

The study shows that an antibiotic mildly stressing mitochondria can boost resilience against respiratory infections. As a result of such an approach, a process known as "mitohormesis" is triggered, activating a series of responses that can improve cells' health and viability.
Yet, antibiotics are known to interfere with the host microbiome, which largely limits their usage. The researchers hence looked for novel molecules capable of inducing mitochondrial stress response pathways, while having no antibiotic effect. A screening process of 52 tetracycline derivatives was done in several biological models, including worms C. elegans. Using Nagi Bioscience's SydLab System, the efficacy and the dose response of the top screening candidates were established in C. elegans.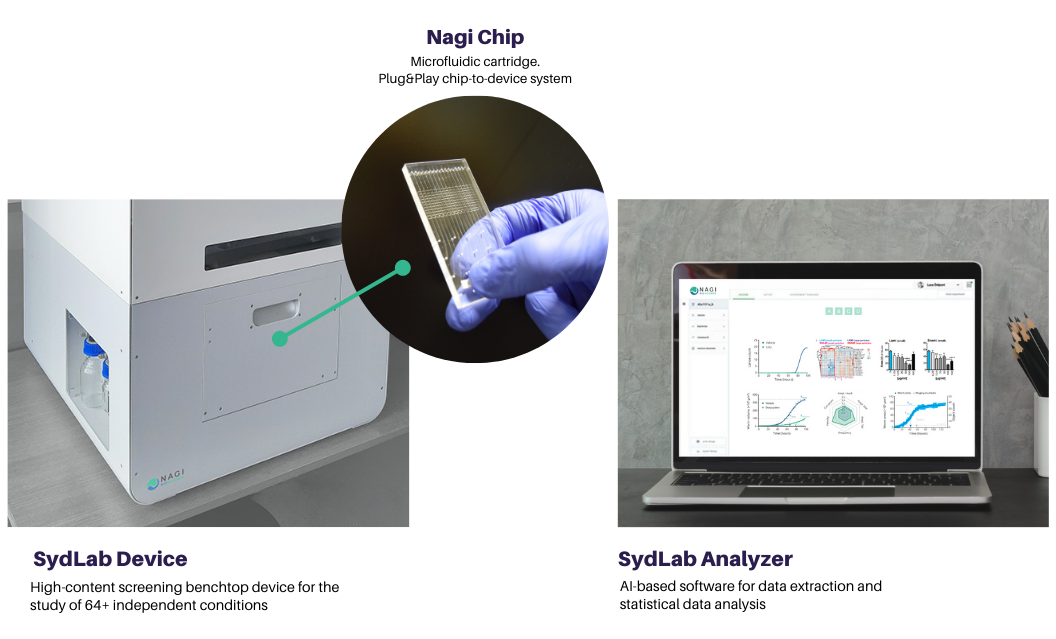 The SydLab System provides a whole-process solution for automated high-content screening on full organisms and with active flow control. Nagi's microfluidic technology allows large-scale studies for the parallel characterization of multiple drugs and chemicals on small organisms, as the present study did. For such part of the methodology, the worms were automatically injected in Nagi Chips and inserted in the SydLab System for its high-content screening, using pioneering robotics and A.I technology. Out of the 52 tetracycline derivatives tested, the 9-tert-butyldoxycycline (9-TB) was identified as one of the most potent compounds to activate mitohormetic response, without disturbing the host microbiome.
The discovery of the efficacy of 9-TB for reducing the extent of inflammatory and tissue damage without altering the microbiome have the potential to drive new research perspectives in the quest of fighting inflammatory diseases, infections and metabolic disorders. Always striving for the acceleration of research, it is a great milestone for Nagi Bioscience to have actively contributed to this study by providing essential data with our disrupting SydLab technology.
About Nagi Bioscience
Founded in 2019, Nagi Bioscience started as a spin-off of the Ecole Polytechnique Fédérale de Lausanne (EPFL) pioneering the alternative biological testing landscape for the past 10 years. With its innovative Organism-on-Chip technology, Nagi Bioscience has developed the SydLab System: a fully automated high-content screening system of substances (drugs, chemicals, cosmetics, fragrances, food additives, nanoparticles, etc.) on microscopic worms (the validated biological model C. elegans) and other micro-model organisms, as 3R-compliant alternative to animal testing.
Under the motto of in vivo testing at the in vitro scale, Nagi Bioscience works for the transformation of biological testing standards providing and constantly developing faster, scalable, efficient, and sustainable technologies easily integrable in laboratory facilities.