Exploring new markets. Nagi Bioscience at the 25th Bengaluru Tech Summit! Recognized as Asia's largest technology event, the Bengaluru Tech Summit (India) will take place between 16th and 18th November where more than 50.000 R&D experts, entrepreneurs, legislators, investors and visionaries will be able to network, exchange knowledge and attend the more than 350 sessions planned.
As part of the 2022 Swiss-Indian Academia-Industry Training (AIT) Camp, our CEO and co-founder Matteo Cornagliawill pitch Nagi's revolutionary technology for fully automated high-content screening of drugs and chemicals on small organisms at the "A glimpse of the Swiss innovation system" session tomorrow 17th November at 2pm local hour (Hall 5).
The SydLab System: Your C. elegans lab in just a device
With the aim of bridging the gap between cells and vertebrates, Nagi Bioscience developed the first fully automated laboratory device for high-throughput screening of drugs and other substances on C. elegans nematodes with active flow control. But what does this mean exactly? Let's decouple this statement:
Fully automated
We really mean end-to-end solution. From worm culturing to A.I powered data analysis, passing by (of course) by image extraction. No need to get your hands on it until the end of your experiment.
C. elegans worms
As you read before. Our experiment can run from days (toxicology assays) to a month if you want to study the full lifespan of the worms. Those nematodes have been proven to be a highly recognized organism model for several research lines (neurodegeneration, metabolism studies, anti-aging research,…) with a high homology with human genes (80%).
High-throughput
Plug 4 microfluidic chips in our device, each of them containing 16 independent channels. You do the math. Test up to 64 independent conditions per run in just days.
Active flow control
Your experiment, your set up. Our experiment launching software will guide you through all the process of assay customization, from condition distribution per channels to time-frame image collection.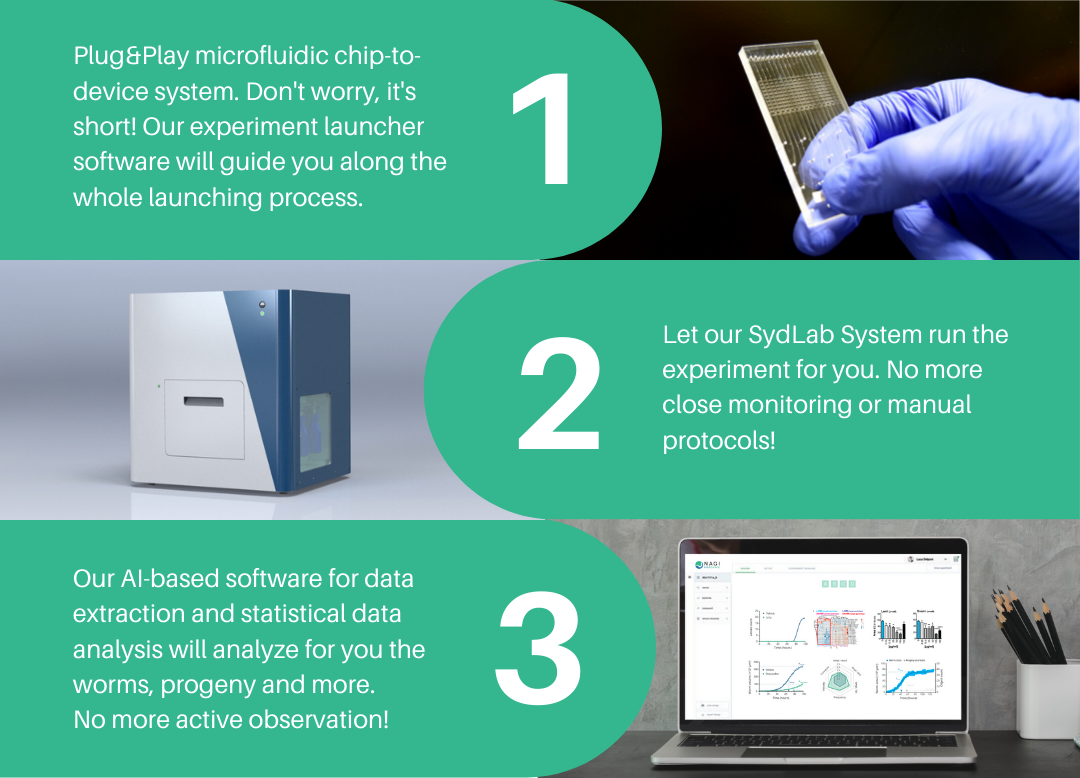 Keen to know more? Meet us at Bengaluru Tech Summit 2022 or contact us for more!